Chamonix-Mont-Blanc
A unique location in the world with easy access!
The EUCOP 5 will be held at the Majestic congress center, in the heart of Chamonix-Mont-Blanc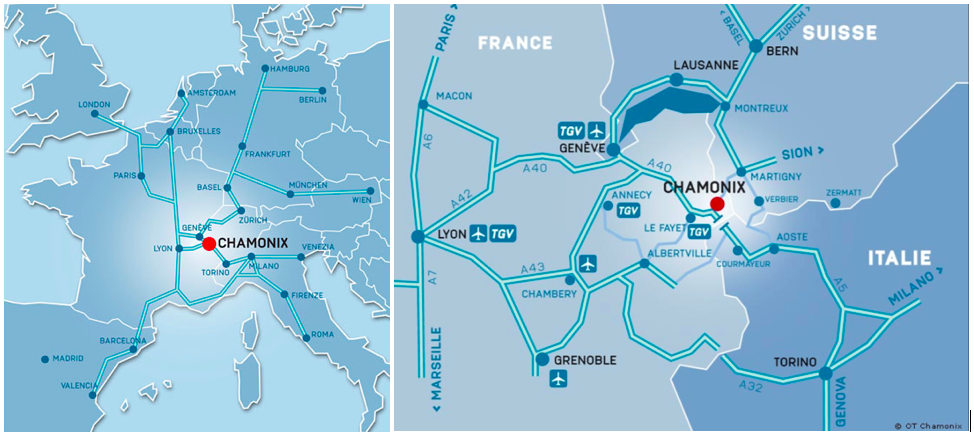 BY AIR - International Airports
- Geneva Cointrin (GVA, the most convenient): 90 km
- Lyon Saint Exupéry (LYS): 220 km
- Turin Casale (TRN): 170 km
BY ROAD
Direct access via motorway A40 linked to the european road network: Geneva 90 km.
Italy: 15 km via the Mont-Blanc tunnel.
BY TRAIN
Nearest TGV stations: Geneva (CH), Bellegarde (117 km) and Annecy (96 km).
REGULAR SHUTTLES
Daily connections to and from Geneva (TGV train station and airport). Few possibilities:
Alpybus: https://alpybus.com/
ChamExpress: www.chamexpress.com
ChamonixTransfers: http://chamonixtransfers.com/en
CVT: www.chamonix-valley-transfers.co.uk/
EasyBus: http://www.easybus.com/fr/aeroport-de-geneve
MoutainDropOffs: www.mountaindropoffs.com
Ouibus: https://fr.ouibus.com/
In Chamonix: free public service with Chamonix Bus covering the entire valley, as well as the "Mulets" shuttle service covering the town service.